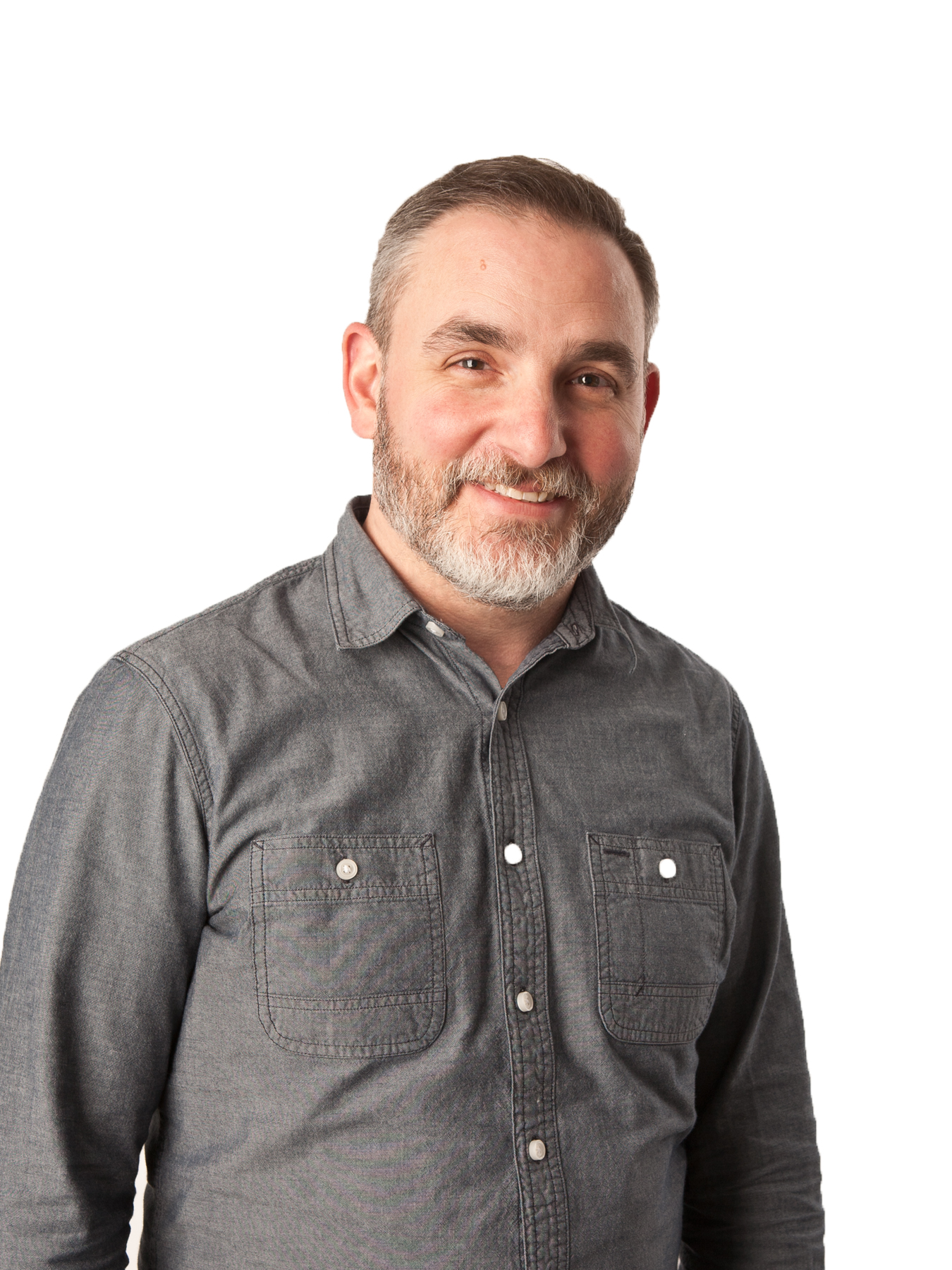 Tim Merrill
Product Design Leader
Team Work
A handful of projects shipped by my teams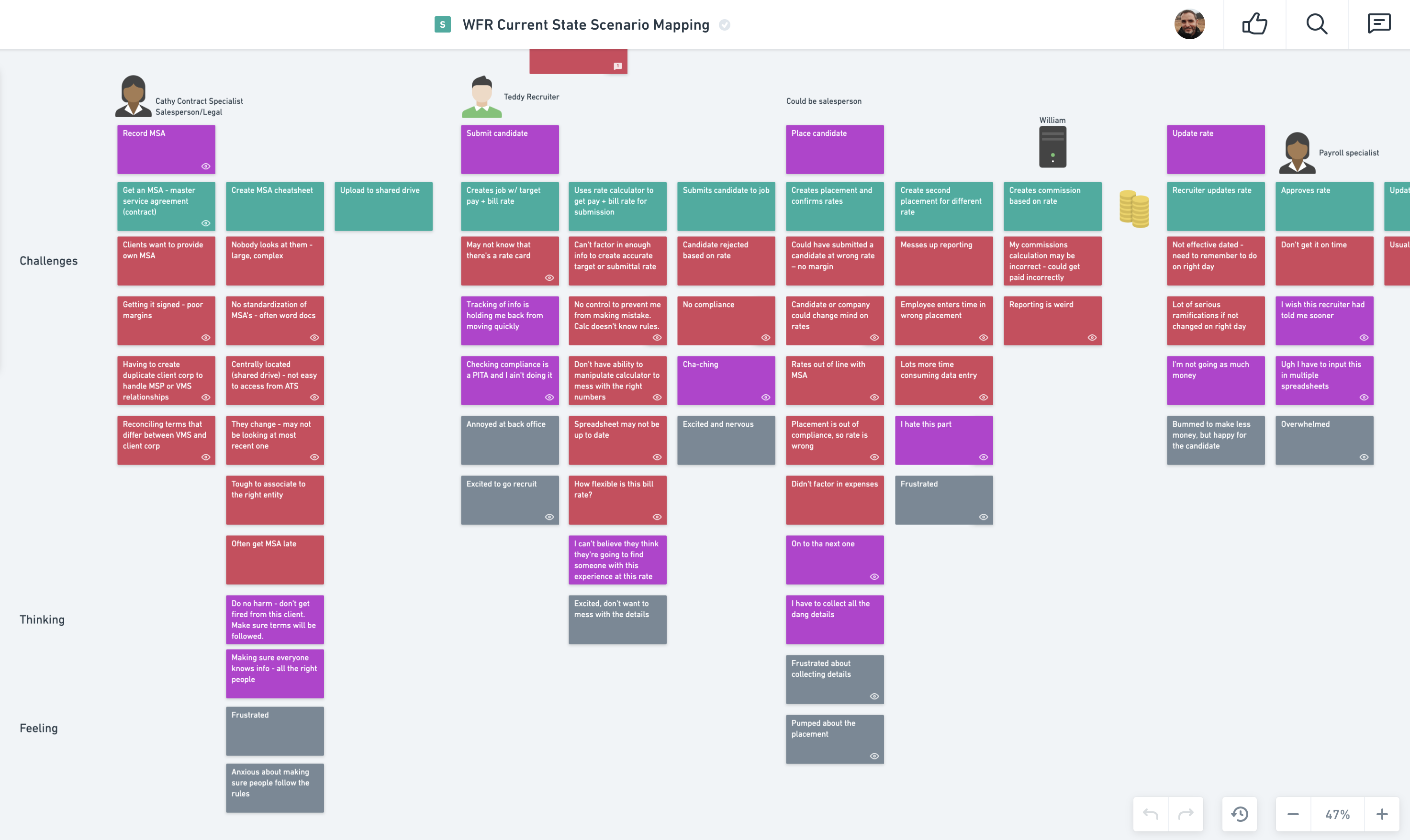 Bullhorn Pay and Bill
Challenge
Seeking to capture additional revenue from existing customers, Bullhorn is developing a middle and back-office application that allows staffing agencies to track billable charges and invoice customers.
My Role
As Director, I've coached the team to:
Develop new personas
Conduct discovery research including field studies, interviews, and surveys to uncover goals, needs, pain points, motivations, and anxieties
Capture and expand understanding via scenario mapping
Usability testing
Implement usage analytics and conduct interviews for the initial release
Sample Insights
Users need an easy way to collaborate with other roles to troubleshoot missing information from employees.
Billing specialists follow a painful process that involves transferring data between multiple systems, which requires a significant amount of time simply verifying the fidelity of data. The new solution will eliminate this.

The move to fully automated billing will need an intermediate semi-manual step to assuage auditing concerns and prompt behavioral change.

Outcome
"Bullhorn One" was successfully launched to beta in June 2019 and is now processing thousands of transactions daily for 6+ customers.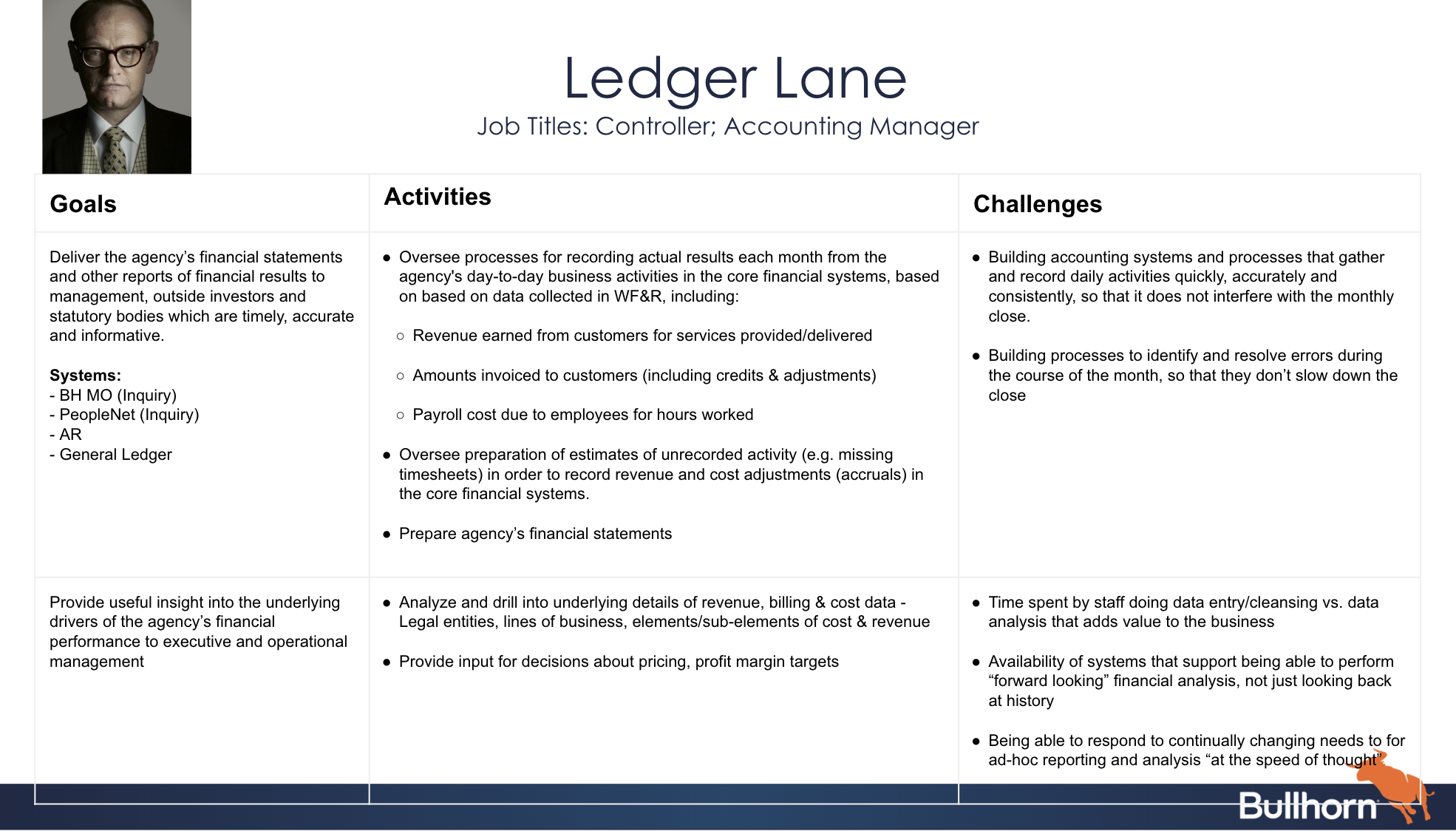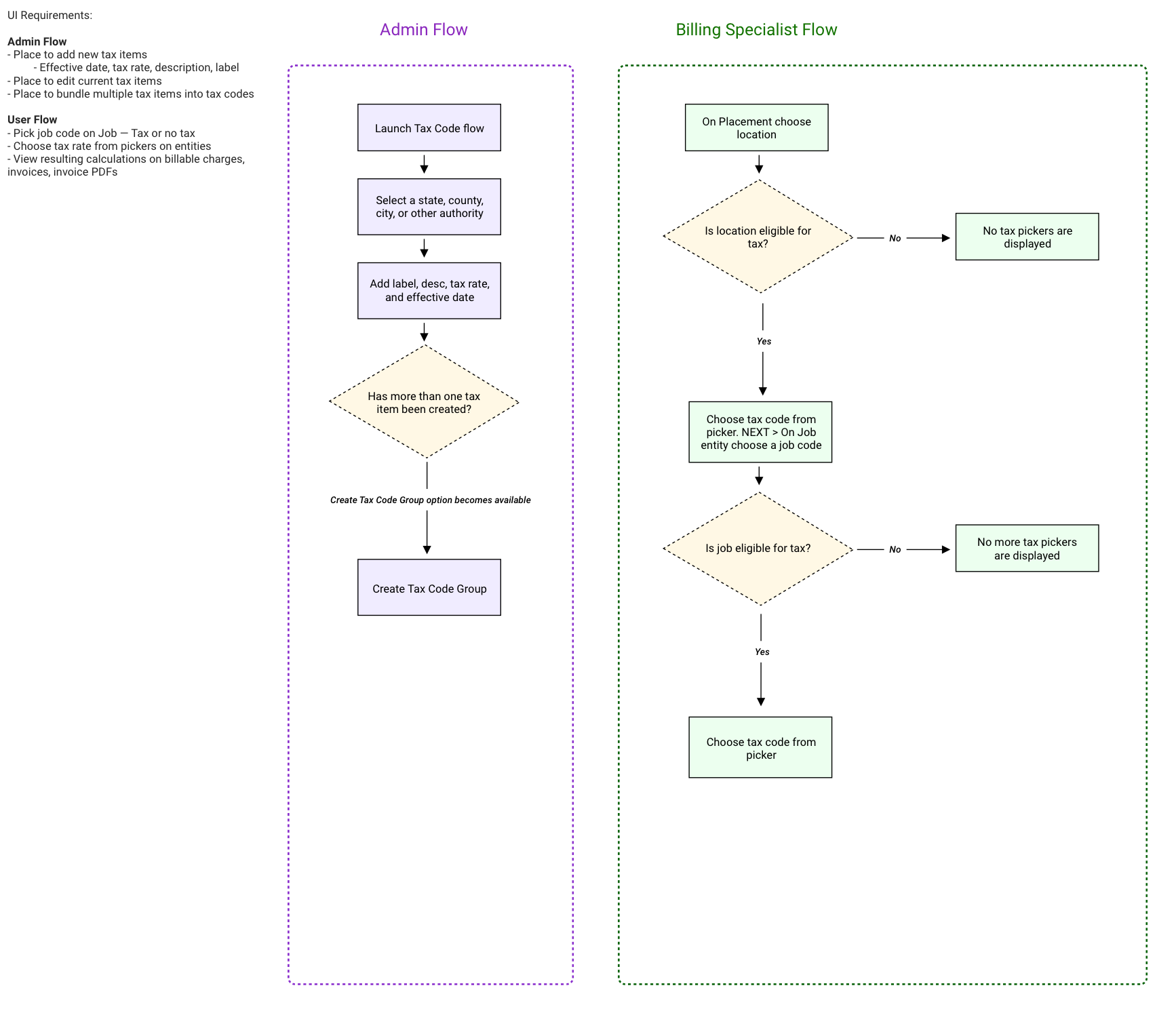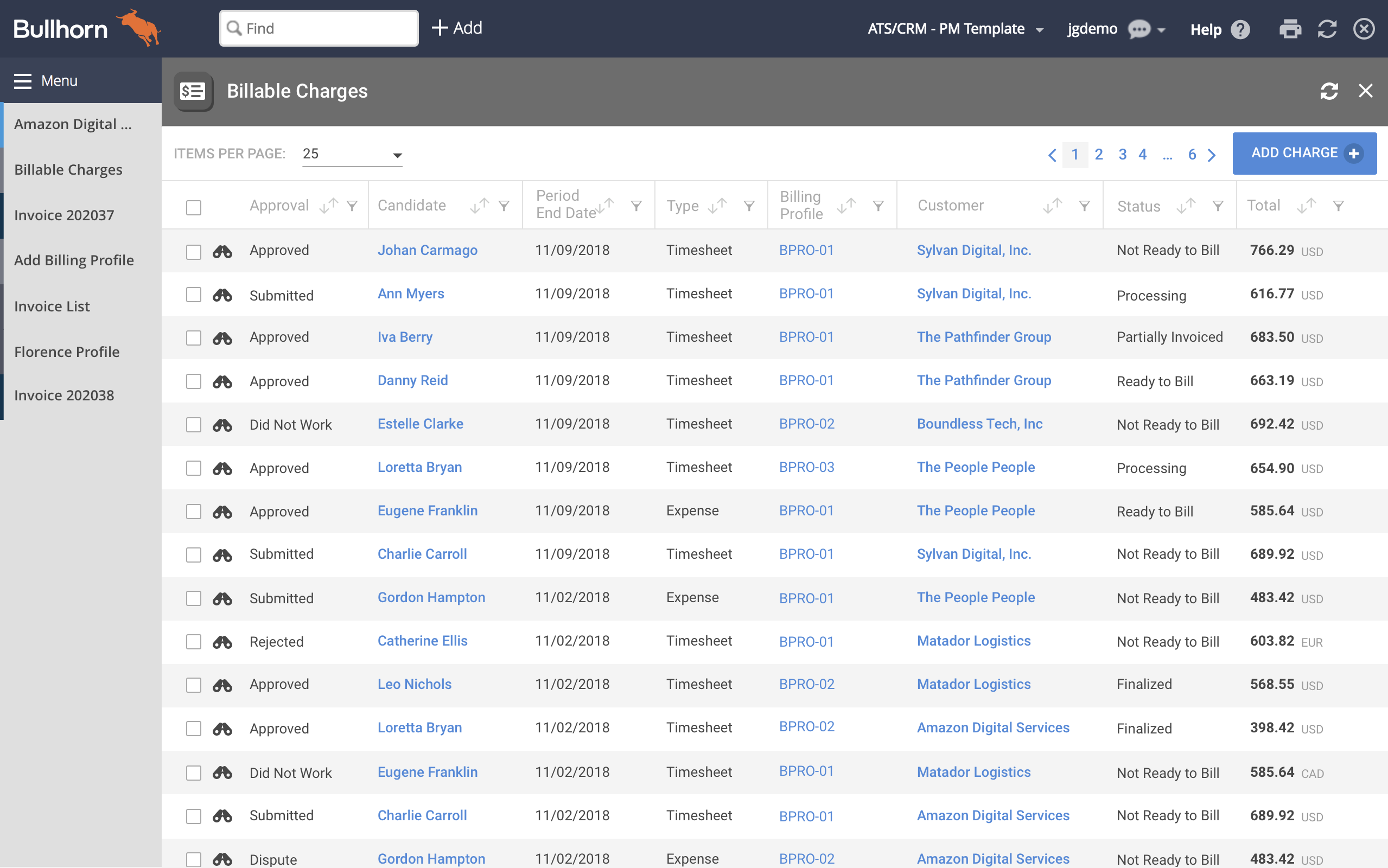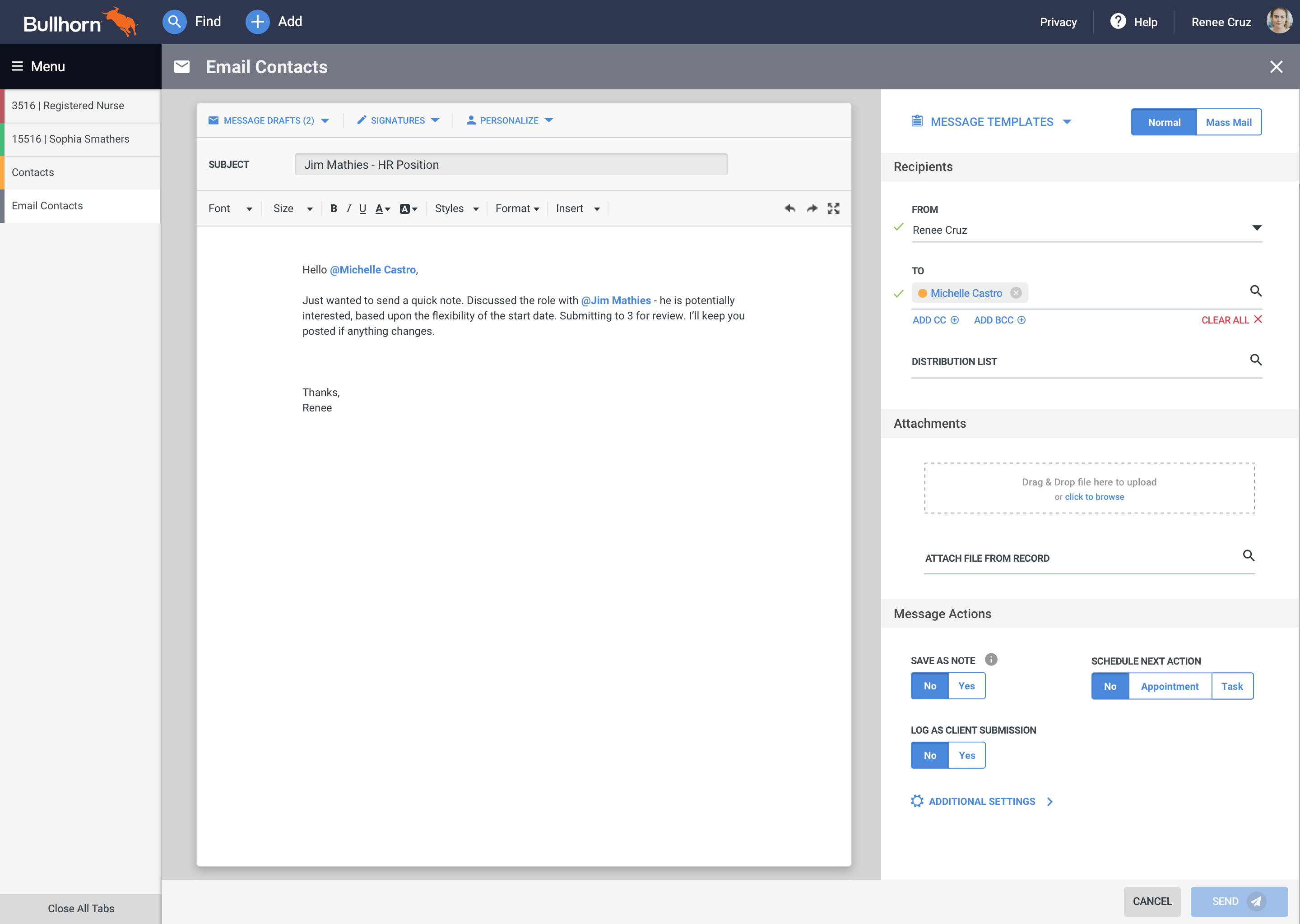 Bullhorn Compose Message
Challenge
Bullhorn users have a choice to email candidates and customers externally (e.g. Outlook), but syncing the data often requires a manual process. The system's email tool is built into several user flows, but was cumbersome to use – it follows a system model, showing every field with equal weighting regardless of usage priority.
My Role
As Director, I worked with my team to:

Perform an analogous product review

Use Pendo to analyze usage data for nearly every field in the flow

Develop prototypes

Conduct usability testing
Outcome
We were able to greatly reduce the screen's cognitive load, removing or hiding infrequently-used functions behind drop-downs and expandable sections. Many users, unprompted, stated they'd much prefer the new design over leaving Bullhorn to use their company email.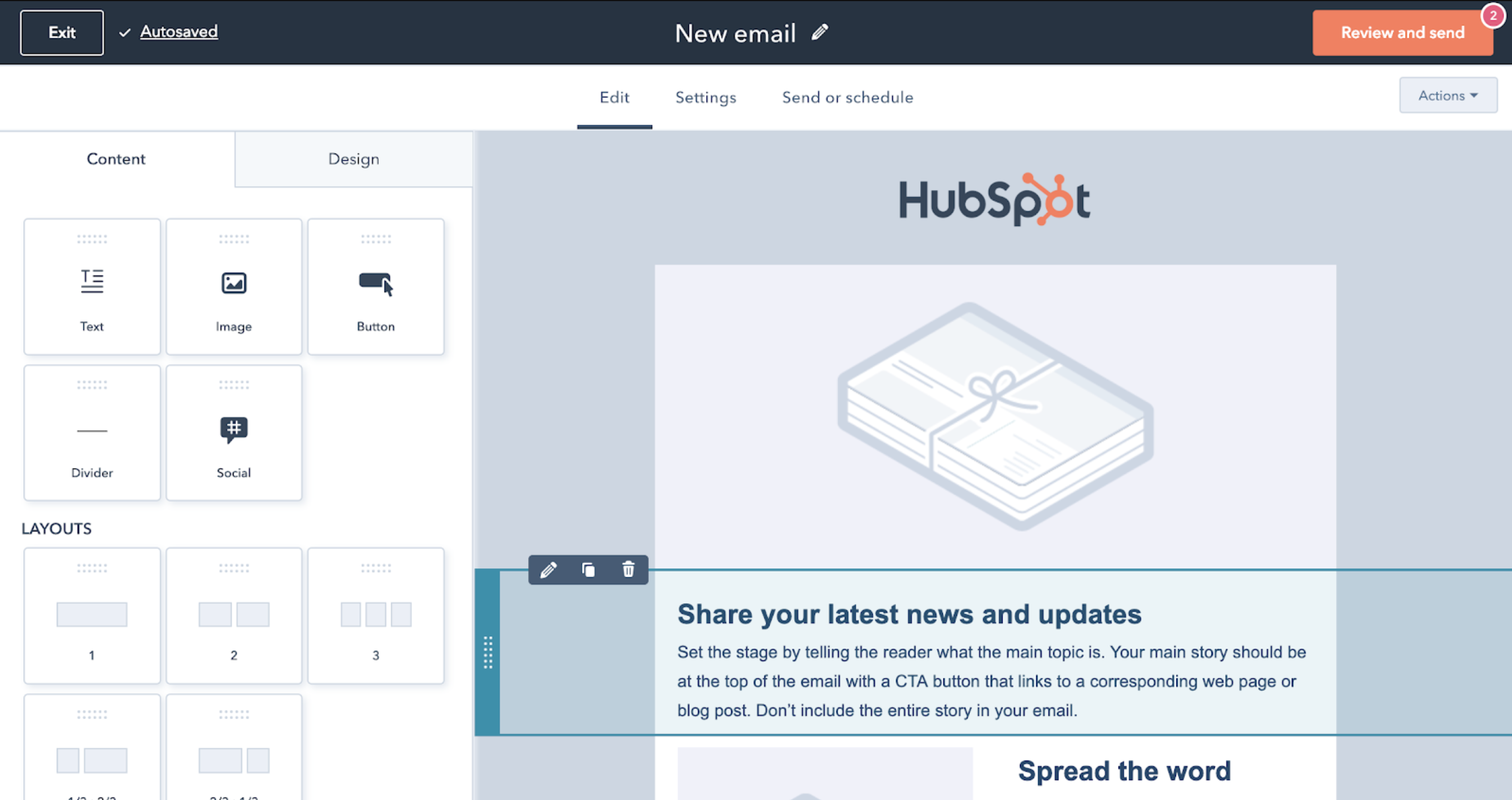 HubSpot Email Free
Challenge
A strategic push to a platform-wide freemium model necessitated an email editor with consumer-grade ease of use. This meant decoupling from the legacy web editor to reduce complexities, and exploring interaction patterns that allowed "just enough" flexibility for customers to create engaging marketing emails.
My Role
In addition to reviewing and coaching on the design process, I facilitated design workshops, including collaborative sketching, affinity mapping, assumption gathering, and technical discussions regarding the interaction model.
We rapidly created and tested functional prototypes to explore aspects of drag and drop, abstract editing (sidebar) vs direct manipulation, column creation, and media insertion.
Outcome
HubSpot Email Free was launched after I left, and the team should be extremely proud of achieving a sweet spot at the intersection of usability, flexibility, and creative agency.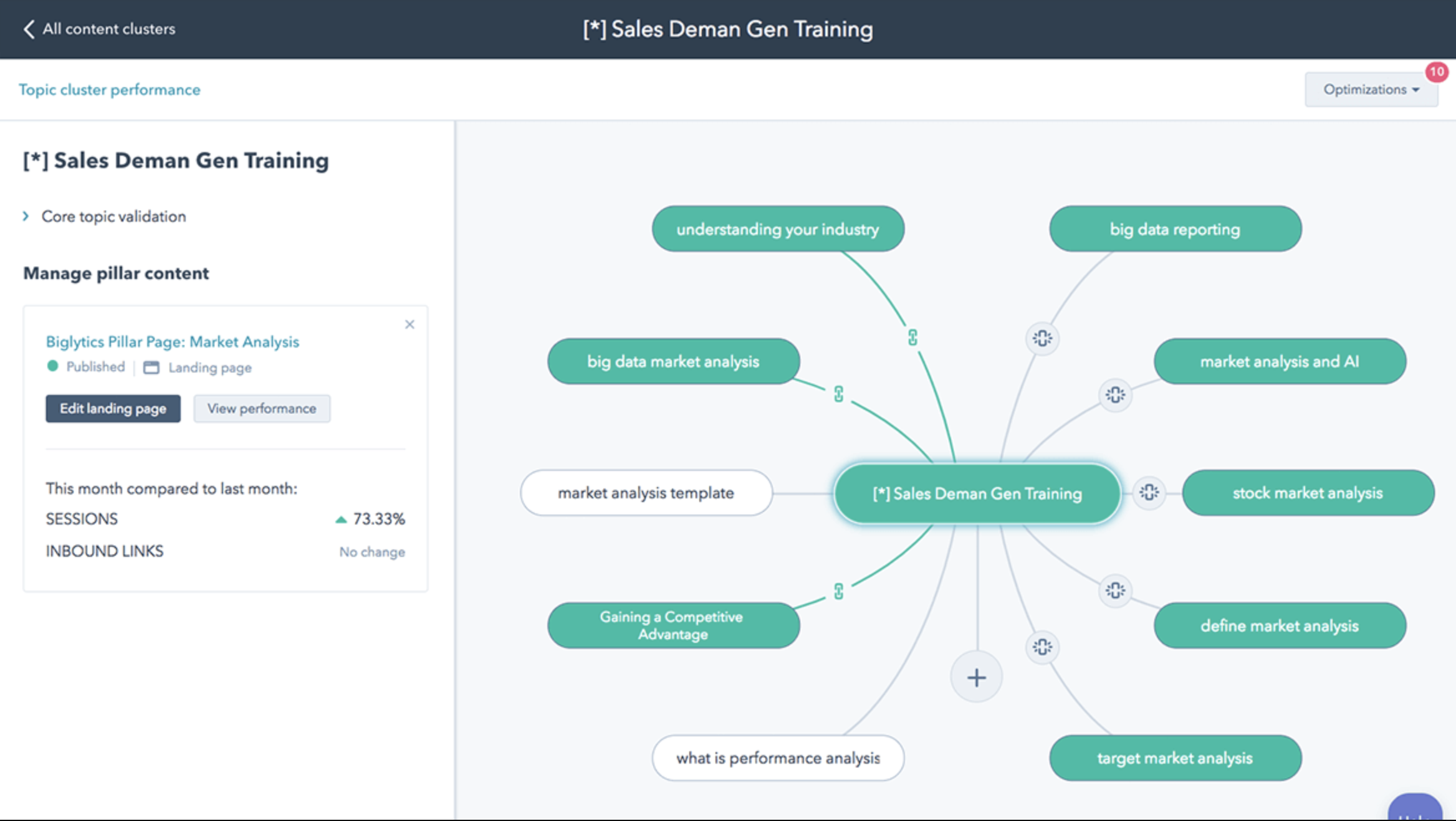 HubSpot Content Strategy
Challenge
With an aging SEO tool developed around no-longer-relevant practices, HubSpot experts saw an opportunity to pioneer a new framework for increasing search engine ranking. But with an entire industry stuck in their ways, it needed to be dead simple to learn and grow with.
My Role
As Director, I worked closely with the product team to gain context on the new SEO techniques and coached on paper prototyping to rapidly iterate and learn how to best introduce the topic to practitioners. I also facilitated workshops designed to align on pain points with the current tool and techniques.
Outcome
HubSpot sunset it's old keywords tool and successfully launched Content Strategy, precipitating the shift to using "pillar pages" for SEO.